Hybrid EF suspension/brakes.
Our cheap little EFs come stock with potentially wonderful fully-independent, unequal length, double wishbone suspension. They are the first civics to contain such a great leap of engineering design (heh). On top of this, the Honda designers were cheap enough to use similar suspension parts from this bitchin' design on some of their other models, like the Integra and other, newer civics. Know what that means? Yep, hybridization. I'm here to tell you what works, what doesn't and hopefully why.
UCA = upper control arm
LCA = lower control arm
DA = 90-93 integra
DC = 94+ integra
EG = 92-95 civic
EF = 88-91 civic
EX = trim model of one of the 90-91 4 door civics
If at any time the word "shock" pisses you off, I will gladly let you substitute in the word "damper."
Rear suspension

Rear LCA:
If you have an 88, your car has the "box in" type lower control arms. These aren't bad by any means, they are even lighter than any of the solid cast LCA's that all of the rest of civic/integra family uses. But it may be tough to find good aftermarket shocks that fit inside them. Or maybe you just want to use some readily available shocks or shocks you got a good deal on. If you plan to use shocks for an 89-91 civic/crx then you need to swap out the LCA's.
You can obviously use 89-91 LCA's. But it should be noted that some models didn't come with a sway bar and so they don't have the threaded holes for the sway endlinks. So try and get some with the threaded holes. If you don't, you will regret it later.
You can also use EG rear LCA's. They are the exact same length and all I've seen have had the holes for the sway bar links.
You can use DC and DA LCA's. But they are a 1/16" longer so you will end up with more negative camber in the rear. If you use these it would be wise to then switch to integra UCA's. Then at least your camber will stay the same.
Rear UCA:
There isn't a whole lot to this. The EG and EF upper control arms are the same length. The DA and DC UCA's are 1/16" longer. You can use them as cheap camber correction if you have EF/EG LCA's.
Trailing arms:
These are really only swapped out because of the brakes attached to them. The DA trailing arms are a good choice because they have 9.5" disc brakes hanging off them (same size as your DX's front brakes) and they can be had for cheap. Other than the brakes the trailing arms are identical. I don't know about DC or EG trailing arms and I'm not about to buy a set and spend an afternoon putting them on just to see if they fit. I have heard of them going on DA integras so I'd imagine they work on EFs too. If you know from experience let me know.
When swapping from drums to discs you will need the rear rubber brakelines (or ss if you like) and the e-brake cables from an EF Si or a DA integra.
Shocks:
If you have non-88 LCA's, any EF, DA or EG/DC rear shock will fit, but some are better than others. The DA shock, for instance, is about 1.5" longer than the stock EF shock. Just for the record, this height difference is ABOVE the perch. That means that your car will be the same height regardless of what shock you run. Travel is your friend and there is no sense in putting a longer shock in there unless you are going to raise it up and go rallying. The DA shocks, though, are valved stiffer than their EF counterpart.
The Shocks (originally Loc's pics from b17a.com):
Rear shock length differences
I e-mailed koni regarding the valving differences and here is what Gordon Benson said about the rear shocks (my Q in these: >):
">Are the rears valved with the same trend? i.e. stiffest to softest goes: DA
>integra, DC/EG, EF civic.
Well, the 89-91 Civic and the 92-00 Civic use the same rear shock. This is actually slightly softer than what the 90-93 Integra is but by a very small, likely unnoticeable difference. The Civic lengths though are still about an inch shorter than the Integra pieces. Thanks for writing."
If you have 88 LCA's then you can put DC Type R shocks in there. Whoopee.
Sway bar:
If you have a model that didn't have a sway bar then this is for you. If it did come with a sway bar then you are lucky and the only upgrade you will get is from an aftermarket bar.
Your EF will accept either an Si rear sway (15mm) or a DA rear sway (14.7mm for the coupe, 15.9mm for the sedan). You can identify the size of the bar by the #s molded into the bushing:
This is a DA coupe bushing
But if your car didn't come with one originally it is NOT a bolt in affair. See, the non-rear sway equipped cars didn't come with nice threaded holes in the control arms for the links, or holes (with welded nuts behind) in the frame rails for the sway locating brackets. So a sway install is a bit of a pain in the ass. I have installed both an Si rear sway and a DA rear bar on non-sway equipped cars, and the bars are really pretty much the same. The biggest difference, though, is the sway locating brackets. These are shorter for the EF than they are for the DA (assuming because of the less rear overhang in the civic/crx) so getting the EF version is preferred.
What I did was mock up the sway bar under the car, make some marks on the frame rails, then drill all the way into the trunk. Yes, into the trunk. Then I used some long grade 8 bolts for the brackets. That is the only way I could think of to get a good hold on them. I was not about to cut into the side of the frame rail and weld some nuts into the holes I drilled. If you have any other methods please let me know.
Aftermarket stuff:
Springs: DA, EG, and DC drop springs all fit but you probably don't want to use them because they were made for a heavier car and wont give you the drop they advertise. Coilovers, however, are fair game from 88-00 civics and integras. The integra versions tend to come with stiffer springs than the civic ones so keep that in mind.
Bars: Adjustable lower tie bars from any 88-00 civic/integra fit. Adjustable upper strut bars from a DA fit, and probably so do the adj. strut bars from an EG/DC. Fixed length lower ties from a DA fit, EG/DC do not (they are longer by about 3/8"). No other fixed length rear upper strut fits the EF chassis, not even the DA rear strut bar. Trust me. I make them and have both a DA and an EF.
Front suspension
Knuckles:
These, like the trailing arms, are really only changed because of the brakes. If you have a model that isn't an EX you have 9.5" brakes (the Si's may be a little bigger). If you have an EX you have 10.3" brakes. If you don't have an EX then you have really only 2 (good) choices: EX knuckles and DA teg knuckles.
The EX knuckles are regarded as the best knuckle upgrade for any EF civic. This is because they don't have any geometry differences and because they were "made" for a civic. The only problem with them is that they are a tad hard to find and become expensive if you want to get them from a junkyard with the brakes attached.
The DA knuckles (also with 10.3" brakes) on the other hand are plentiful, cheap and work great as well. They are, however, a bit heavier weighing in at 6lbs 7oz more per side than a full DX knuckle. Also, because they weren't made for any civic the geometry differences have been blown way out of proportion by message board folks and because of this, a lot of people are scared of the swap. The knuckles are ¼" taller than the civic knuckles but really, it is nothing. It raises the roll center ever so slightly and makes the camber curve a tiny bit more aggressive. So what? Who said the geometry was perfect to begin with? And caster is NOT affected by knuckles. It is determined by the ball joint locations on the control arms. So stop saying the knuckles themselves change/screw up caster! They don't and never will.
You can put the DA calipers and rotors on EX knuckles without any issues.
I have the DA knuckles myself and have to say that I have not felt nor seen ANY adverse effects, even after a full season of autox with them. I even switched back to DX knuckles for a while and noted absolutely NO gain, only a loss in braking power.
One of these days I will get my hands on an integra knuckle and a civic knuckle when I can really sit down and measure them both.
Once again I don't know about the EG/DC knuckles. I have seen some threads about people having major camber problems with them but have no personal experience so I cant say.
Front UCA's:
Don't use DA integra UCA's. This is where a lot of people go wrong when using the DA knuckles. They use these UCA's and it gives them positive camber and less caster. Then they blame it on the knuckles. Waaaaaa...
The EG/DC UCA's don't fit at all. The distance between the anchor bolts is completely different between the EF/DA's and the EG/DC's. Look:
Notice how the widths, among other things, are different.
Brake system:
If you have a DX or something similar you have a 13/16 master cylinder. That is small. 15/16" MCs that bolt right up to your stock booster are: 88-91 prelude, 89or so accord LXi, and 90-91 civic EX. You can also use the 90-93 integra 15/16 (non ABS) MC but you NEED to use the booster as well. If you want to use the DA 1" ABS MC and booster you have to put a different fitting (its larger) on one of the lines that goes into the MC.
On top of all that you can use a 1" MC from an ITR or a DC GSR. For that you will need both the MC and the booster, then you need to re-bend one of the lines to get it to bolt up. Fortunately there are no differences in the fitting sizes like with the DA 1" MC.
I personally have the DA 1" MC/booster and it is great. The fitting was kind of a pain but definitely not impossible if you own a flaring tool.
If you have disc brakes all around and they didn't come stock you probably should swap out your stock proportioning valve for one that says "40/40" on the side. This comes in Si and EX 88-91 civics, and DA integras.
Shocks/forks:
You can use DA front shocks with no modification. The only problem is that they are around 1" longer in the body (stock vs stock) and that means less travel in your lowered car. It seems, though, that many aftermarket companies feel that the DA and EF shocks are so similar that there is no need to make two different products. Examples include the tokico blues shown below and kyb AGXs (same part number). I had AGXs and they were longer than my stock EF shocks, shorter than my stock DA shocks, and 1/2" longer than my EF Koni Yellows. Odd, eh?
The Shocks (originally Loc's pics from b17a.com):
Front shock length differences
You can also use EG/DC shocks (EG shocks are exactly the same as DC shocks) if you feel so inclined. All you need to do is use EG/DC forks. Heres what Gordon Benson at koni has to say about the front EG/DC shocks vs DA and EF shocks (koni yellows anyway):
"The valving for all of those applications are different because they are all for different vehicles. When we create a valving for a shock, we tailor it to the needs of that car and not try to fit one valving for many. Of these ones you listed, the 90-93 Integra is firmest in compression and rebound. The 94+ Integra (and 92-00 Civic) is about the same in rebound but slightly softer in compression and the 88-91 Civic is valved the "softest" though it isn't by a lot."
Then more specifically the EF vs EG koni shock:
"...the biggest change with the 88-91 and the 92-00 Civic is that the lower "wishbone" (what the shocks go into on the bottom) is smaller on the 88-91 cars. This can be interchanged though the lengths and the valving between the 2 Civic applications isn't worth the work. The valving is basically identical and the lengths are less than a half inch of each other."
The EF and DA forks are exactly the same and so are the EG and DC and all 4 of them have the same height (no matter what anyone tells you). EF/DA fork on left, EG/DC fork on right: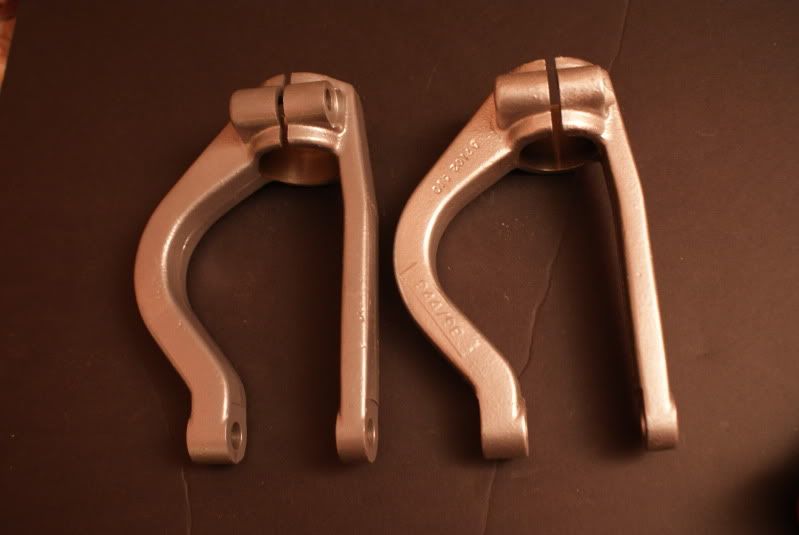 EF fork on L; EG fork on R
The only difference between the EF/DA forks and the EG/DC forks is that the EG/DC forks have an inside diameter .15" larger than the EF/DA forks. This is because the EG/DC shocks are fatter than their EF counterparts.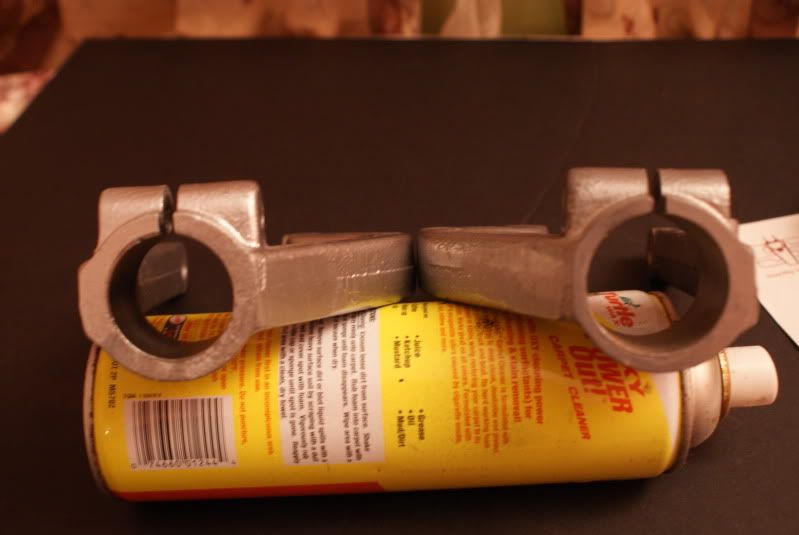 EF fork on L; EG fork on R
With a little fork modification it is possible to use the DC/EG forks with EF shocks and gain around ¾" of shock travel by slipping the fork OVER the bottom of the brake line bracket. I have a writeup on how to do that here (its at the bottom).
Front sway bar:
All the non-
celalalt forum
EFs come with an 18mm front sway. The
celalalt forum
has a 17mm front sway and it bolts right on to your non-
celalalt forum
. DA integras come with 22mm front sways which bolt on, but you probably don't want to use it because it will result in MORE understeer. From my understanding the EG/DC front sways don't bolt in.
Aftermarket stuff:
Springs: Again, you probably don't want to use the drop springs from another car because it will result in screwed up ride height. But any 88-00 civic/integra coilovers work just fine.
Bars: None of the other civics/integras have a front lower tie that works, not even the DA. Adjustable DA front strut bars fit and adjustable EG/DC ones do not. I am not sure whether fixed length DA front strut bars fit as I have only made one for my EF and have not tried it on the DA.